Apple Pay launched in the UK last week which meant a new way to pay for goods & services, and, of course, a thousand opinion pieces that decipher whether it's good or bad. Personally, we don't really understand the hype. That's not to say we think Apple Pay isn't useful but haven't we had contactless cards since 2008? How is Apply Pay intending to change the market? Will it take off? We've outlined some pros and cons on the service so you can make your own mind up about it rather than having some 'insightful' opinion piece forced down your throat.
Apple Pay feels like the future. Cashless society, speeding up processes, being able to wear jeans without bulky wallets sticking out. That's the kind of future we want. However, Dan Wagner, Download Mobdro on your Android over at City A.M points out a great point: the seconds saved grabbing your phone rather than your wallet is hardly going to revolutionise the shopping experience. Although this is just the beginning for the service. If contactless machines and in-app purchases advance in the coming years you might be able to pay for your morning coffee before you've even got to the till.
While potentially speeding up the paying process there is one small problem: Apple Pay is only supported by around 20 companies in the UK and arguably the store you're most likely to see this service in action is Starbucks, they have for a while now provided the opportunity to pay via the mobile app so there's nothing new for customers there. If we're honest it's frustrating there isn't more FMCG supported stores where a quick payment method suits. While more stores are expected to participate in the coming year including JD and Screwfix we can think of more useful stores to roll the scheme out to. That being said Apple Pay may prove very useful when ordering your late night Dominos thanks to its in-app usage. But what if it doesn't stretch further than these little novelty purchases? When considering nearly 2/3 of top 100 retailers claim they have no plans to support Apply Pay next year it doesn't look great for the service.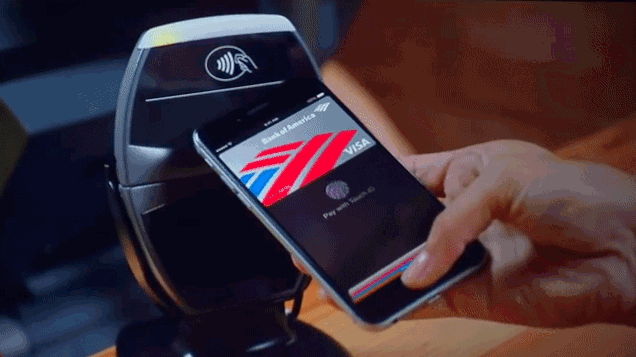 But it's not all bad news. Some retailers may raise the maximum purchase spend on the service, unlike contactless card which currently have a £20 limit. If enough retailers lift the limit then using the service may move from being a novelty to a serious way to purchasing. It can be argued that using Apple Pay is more secure than regular debit/credit cards. Unlike pin numbers your fingerprint that accesses Apple Pay cannot be learnt or stolen, so there is some augmented privacy for those concerned (although this feature isn't available for the Apple Watch). In fact, privacy seems to be covered as Apple Pay claim best bluetooth headphones under 50 each transaction is authorised with a one-time unique dynamic security code, instead of the security code on the back of your card to protect your identity.
We're still not completely sold on Apple Pay, we're excited to see the future of the service and how retailers and customers react to it. Who knows, give it a couple years and maybe a majority of the UKs purchases will be contactless.