Feminism is a hot topic in our office at the moment. This article about Google being less likely to promote executive role adverts to women plus the revelation that Stock Images include hardly any women or POC have been in high rotation this week.
Although there are some considerable changes that need to happen before equality can truly be reached, there have been advances in and outside the workplace to aid the emancipation of women. That being said, there are many industries that are slow to adopt schemes that empower women; technology is one of them.
While we're not experts on feminism, we did want to highlight some of the positive and negative things happening now that affect women in the IT industry.
The RSA Conference has banned 'Booth Babes'
The California-based information security-related conference has added a new provision to their rules & regulations. This year there will be no 'booth babes' or more professionally put 'promotional models'. Although not limited to technology conferences the sexualised models "broadcast a very loud, very inaccurate image of what the technology industry is to being a woman" according to technology editor Taylor Hatmaker.
Everyone at the 2015 RSA Conference is now expected to wear professional attire as opposed to using female models as novelties. Kind of an obvious one really. We're waiting for this rule to roll out to all technology conferences.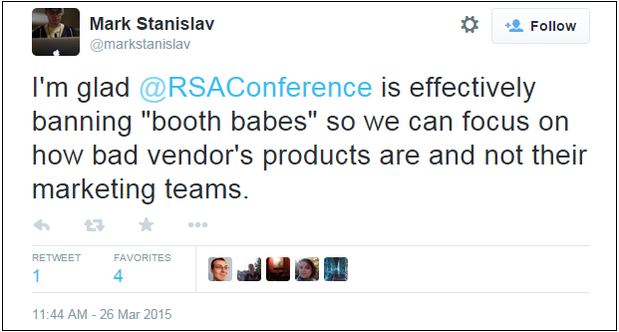 Facebook's new friends icon reflects equality
Although a minor change, symbolically it means a lot. The male and female silhouettes are now side-by-side, unlike the old image where "the woman was quite literally in the shadow of the man" says Facebook's design manager Caitlin Winner. Another little win for gender equality.

Women are still under-represented in IT
Sadly women are still hugely under-represented in tech companies, even in the public ones company culture is skewed towards men. For example, the % of women in Facebook's, Google's, and Apple's technical workforce is 20% or less. We know the argument that women don't apply for these jobs; we're recruiters for the industry and our male/female candidate ratio is 4:5. What has to be acknowledged is why women don't apply for these roles. The problem starts much earlier than recruitment, usually at childhood when institutionalised patriarchy begins.
App developers are helping women spend their money more wisely
Female app developers Iris Kou, Camille Ricketts, and Ipsheeta Furtado are creating an app called LedBetter that "gives you the data you need about how many women are actually influencing the products you buy every day". It means that women can access data on a company's gender make-up and policies that affect women. Women can make better decisions based on this data and in turn will force companies to take positive action towards women's issues. The app hasn't launched yet but if you want to check it out and support it then please visit their website.
We acknowledge that we've illustrated some of the more positive things happening at the moment; we're a glass half full kind of people. That being said the industry and the world have some time to go before men and women can be truly equal.
More news like this: Challenging Stereotypes with #ILookLikeAnEngineer